For reasons to do with transparency and accountability, and in order to best assist you, every prospective member must fill out a confidential application form and return a signed copy to us by email or post, at the address at the foot of the form. Alternatively, you may submit your application form by hand to a committee member, or in person at a scheduled meeting. A recent passport-type photo will also be needed before we can issue your personal membership card and unique member number (email image attachments are acceptable). Please be assured that we will NOT disclose your personal details to any other person or agency without your express permission.
Please follow the instructions on the form below and PRINT YOUR DETAILS CLEARLY AND LEGIBLY, especially your email address, thank you. This will help ease the administration process. A committee member will be in touch to confirm your application, after which you will be issued a membership number, membership card and a password for the secure members' area.
Please make sure you have read and understood the rules & guidelines before applying for membership.
Each new applicant must submit a separate form.
Click on the 'printer icon' (below the hammer, right) to print out a copy on your home computer. 'Grayscale' print setting will save on ink.
Having problems? Just email us directly at admin@integrityireland.ie for your own private copy.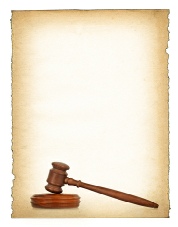 DONATE & SUPPORT